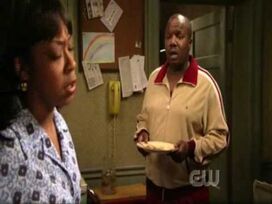 Uncle Mike
is
Rochelle
's older brother and is
Chris
,
Drew
and
Tonya
's uncle. He is lazy and doesn't have a job. It is known that he's in his late thirties as Chris said "He's almost forty and never got a job" He knows how to get on
Julius
' bad side, such as by roaming about the house in Julius' clothes without asking him, giving him out-dated tickets for sport events or even shouting his trademark salutation "Big man!" at Julius - a thing that drives Julius into wrath or causes him to imagine that Mike wants something (generally unpleasant or unacceptable) from him. "Hey 'Chelle, y'all got somethin' to eat?" or " I didn't know y'all was about to have dinner," as his repeated phrases.
Uncle Mike is portrayed By Earthquake. According to official sources, Mike is 40 years old.